Detailed information and maps below show exactly where is Maldives located on world map. Map of Maldives then shows local islands, resorts, airports etc. Maldives is chain of 1192 islands located south-west of Sri Lanka and India, in the Indian Ocean. The islands are so tiny that many world maps do not show Maldives.
It is an independent country of about 357566 in population. Maldives is a member of the United Nations (UN), South Asian Association for Regional Cooperation (SAARC), Commonwealth and many other international organisations. Major economic activities are tourism, fishing, construction. The economy is mainly based on foreign currency generated through tourism, 99% of household goods are imported from other countries. The local currency is called Rufiyaa but US Dollar is widely accepted throughout the country.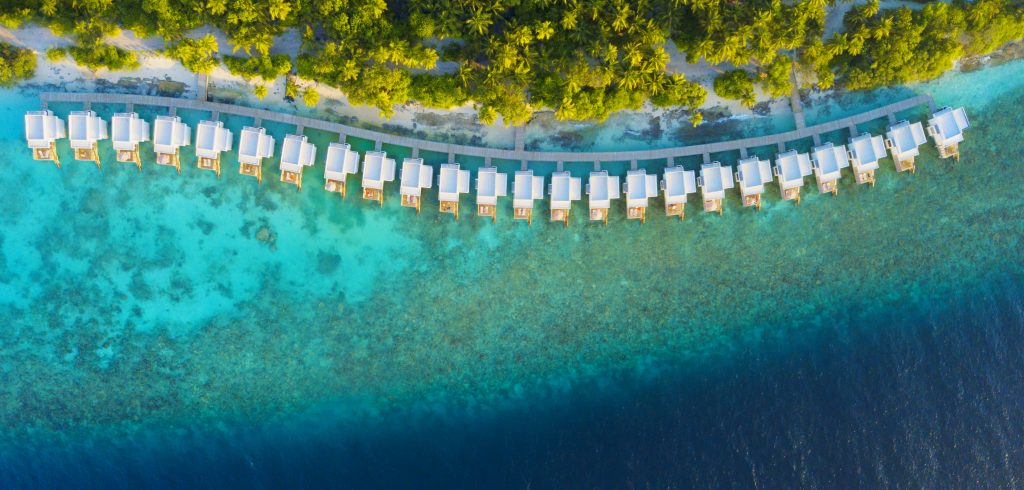 There are two maps below, one shows where is Maldives located on world map and other shows the Maldives islands on the map with airports marked by flight symbol. To quickly locate the main international airport scroll down and see mid-section of the Maldives map where there is double flight-symbol. Hulhule' is home to Ibrahim Nasir International Airport or formerly known as Male' International airport. Tourism is most develop in atolls close to this airport. Hulhule' also home to world's business seaplane operation.
Maldives is an Asian country. The closest countries are Sri Lanka and India. It takes about an hour to fly from Srilanka to Maldives, a little bit more than an hour from Trivendrum of India. Every island is surrounded by water and totally disconnected from other islands. It takes about 5 hours to fly from Malaysia, Singapore and Thailand. About 8 hours from Guangzhou of China.
Location of Maldives on world map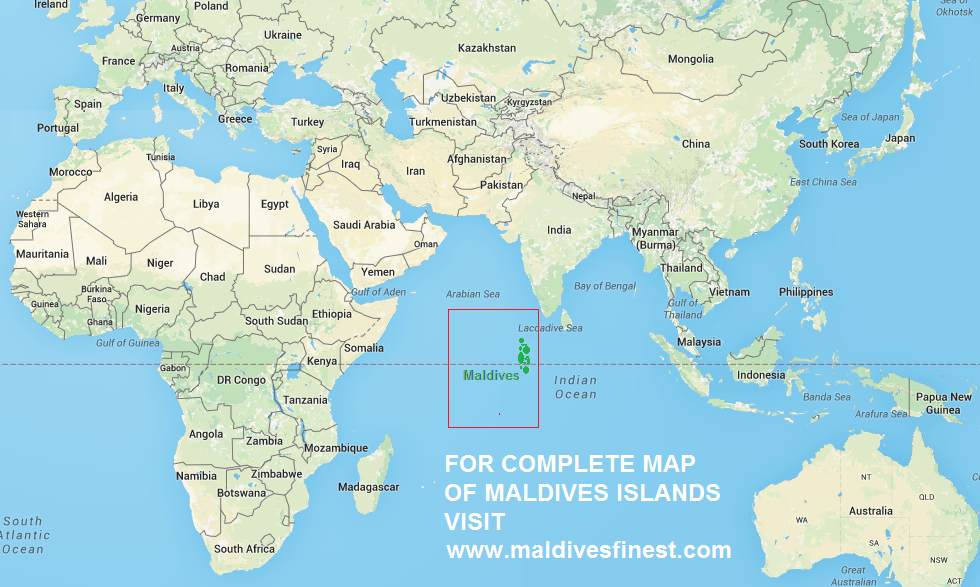 This map also shows all countries of Asia and the location of Maldives in the region. Asia is mainly divided into three regional sectors.
South Asia comprises of Afghanistan, Bangladesh, Bhutan, India, Nepal, Maldives, Pakistan, Sri Lanka. Southeast Asia includes Indonesia, Malaysia, Singapore, Philippines, East Timor, Brunei, and Christmas Island, Cambodia, Laos, Myanmar (Burma), Thailand, Vietnam. East Asia consists of China, Hong Kong, Macau, Taiwan, Japan, Mongolia, North Korea, South Korea.
Maldives Map 2020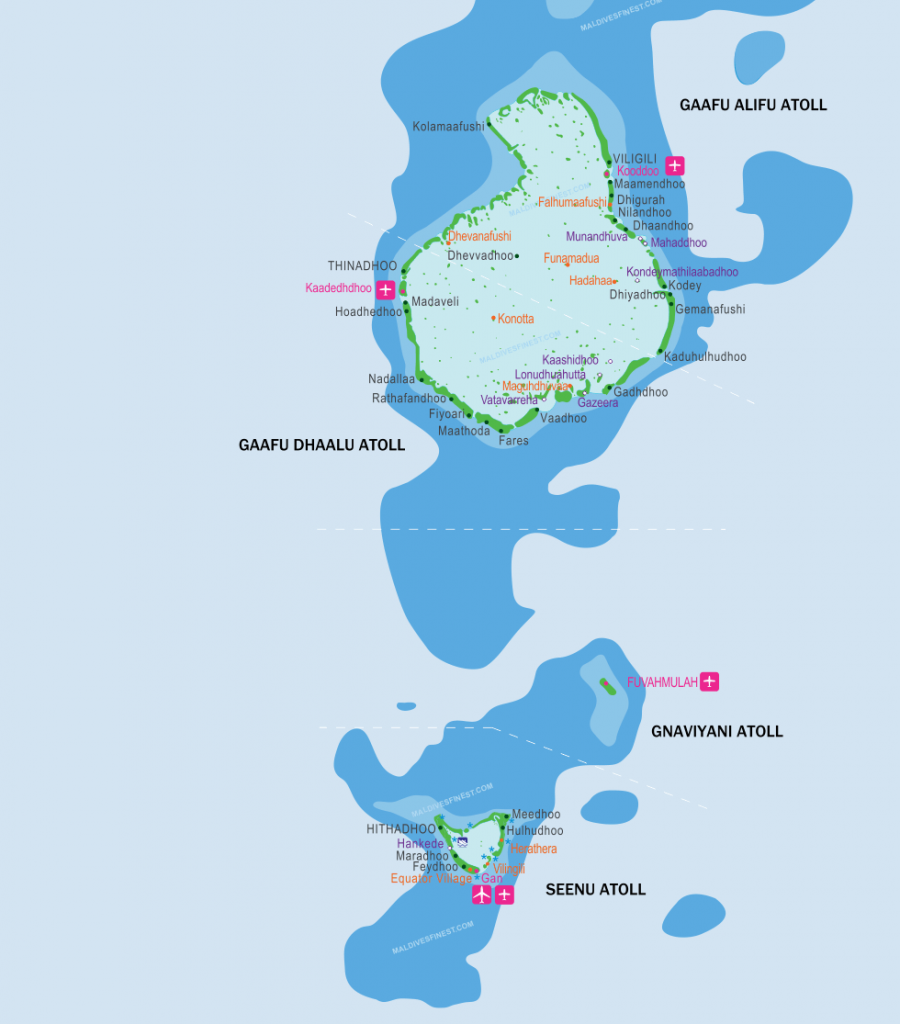 There are the 1192 islands in the Maldives and this map shows them all. The country is naturally divided into 26 atolls or chain of islands. You can see this very clearly on the map. For administrative purposes the government has divided it into just 20 atolls. Scroll down to Kaafu Atoll to see the international airport at Hulhule'. Kaafu Atoll being the location of main airport it is the busiest tourism zone, other popular atolls include South Ari Atoll, North Ari Atoll, Baa Atoll. None of the atolls are bad, having said popular it simply means there are many resorts around. Tourism has been booming in Noonu Atoll in the last few years, especially in luxury tourism. See the map of shows many islands in close proximity, this could be one of the reasons for attracting both investors and tourists in luxury sector.
Sandbanks are not marked on above maps due to the fact that sandbanks change their location seasonally, usually twice a year. Therefore, it is difficult to locate the exact spot of the sandbanks. Also, due to global warming some sandbanks are disappearing from the surface, the baby islands at some point may even re-appear.
On the Maldives map atoll names are on both sides in large font size. The dotted white line separates each atoll from the rest of atolls. Some parts of the map show atolls one by one (from top to bottom), in other places the atolls are located side by side which is often referred as double-chain formation. In rough weather the outer atoll seas are more choppy, but in fine weather it is unnoticeable.
Some of the five star resort near Male' or airport
• Taj Exotica – Just 10 minutes from airport.
• One&Only Reethi Rah: About an hour from airport.
• Jumeirah Vittaveli – About 20 minutes from airport.
• Velassaru Maldives – About 15 minutes from airport.
• Sheraton Fullmoon Resort – About 15 minutes.
• Kurumba Maldives – 5 minutes.
Some of the four star resort near airport
• Meeru Island Resort – About 30 minutes.
• Paradise Island Resort – About 15 minutes.
• Bandos Island Resort – About 15 minutes.
These are just a few to name quickly. Discover more resorts using the map.
Male the capital of Maldives
The capital of Maldives is Male' (with apostrophe) which is pronounced as Maaley. On internet it is sometimes spelled as Male (without apostrophe) which is not the right spelling. Below is the map of Male (or Male')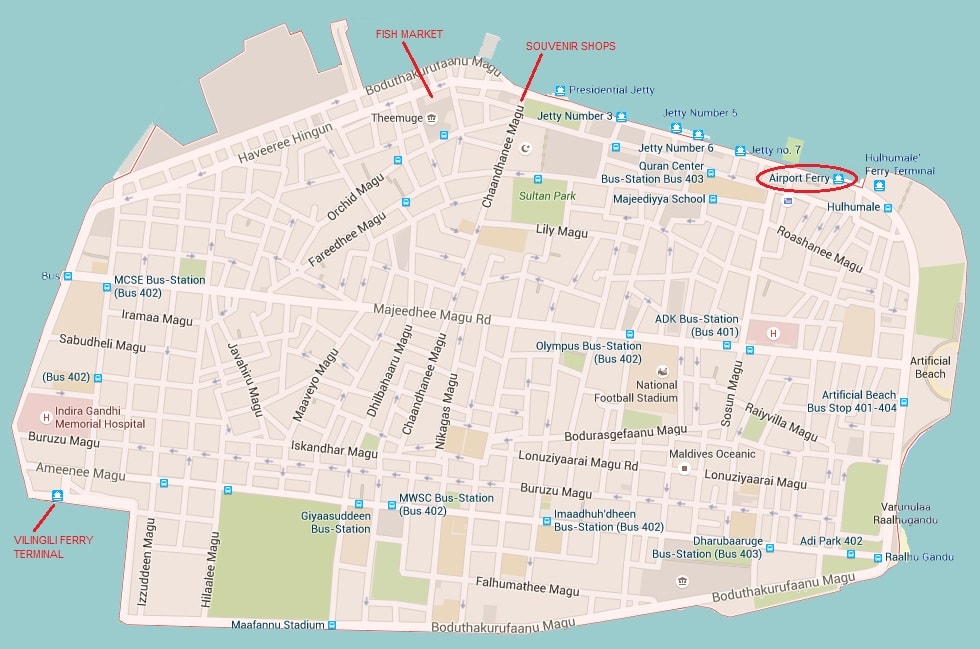 Between airport and Male' there are ferries every 10 minutes, this is from 5am till midnight, after that ferry operations are not frequent till next morning.
Distance between Maldives and other countries
Distance between Maldives and Sri Lanka from closest point: 717km
Distance between Maldives and India from closest point: 430km
Distance between Maldives and Seychelles from closest point: 1950km
Distance between Maldives and Malaysia from closest point: 2970km
Distance between Maldives and Thailand from closest point: 2750km
Distance between Maldives and Japan from closest point: 5800km
Distance between Maldives and Hong Kong from closest point: 4760km
Distance between Maldives and Germany from closest point: 7200km
Male' Maldives to Colombo Sri Lanka: 750km
Male' Maldives to Trivendrum India: 645km
Gan Maldives to Colombo Sri Lanka: 1120km
Gan Maldives to Trivendrum India: 1146km

Distance between Maldives and Minicoy of India from closest point: 128km
Distance between Minicoy and mainland of India from closest point: 378km
Distance between Minicoy and other Indian islands from closest point: 200km
Where is Maldives? Is it in India?
Surprisingly some people tend to think Maldives is a part of another country. This is 2020 and such people from around the world still exists but the answer for them is very simple. The formal name "Republic of Maldives" is an independent sovereign country with its territorial waters and land defined, and recognized by international bodies such as United Nations, Commonwealth. Maldives is widely known throughout the world and have foreign relations with all major countries of the world.
Maldives is not in Zanzibar, Seychelles, Mauritius, India, Indonesia or any other country. Maldives is a country in Indian Ocean. It is astonishing to learn some Indians don't even know Maldives exists. But, then there are Indians living in their country who have never seen sea in real life, it is simple a vast country with lot of cultural diversities.
The country is headed by a democratically elected president. Judiciary and parliament are independent bodies of the state. Maldives is divided into 20 atolls which are run by local councils, atoll councils or city councils, under the Constitution of the Republic of Maldives.
Maldives is not a part of any country, not even attached to protection of any specific country. Like other independent countries the government headed by the President Of Maldives administers the country. The world map shows geographical separation of Maldives from other countries.
How many islands in Maldives?
The official count of Maldives islands is 1192. This number was established several decades back. Over the years we have observed some sandbanks being converted islands. Also there has been some reclaimed islands developed for tourism. Currently there are multiple land reclamation projects on going in Kaafu Atoll, near Male', and many of these projects involve reclaiming land in the lagoon, thus forming new islands. Therefore, present count of Maldives islands would most certainly exceed 1200.
It was recently discovered by Maldives Finest that the islands on the north of Maldives have significantly less rainfall over the year. The northern most atoll is Haa Alif Atoll, followed by Haa Dhaalu. It is very easy to locate the islands and atolls because these are at the very top of the map. Scroll up and see the first atoll. Yes, it is the northern parts of the country. Capital Male' is located in the mid region, southern atolls are on the bottom.

To visit Haa Alif Atoll you can fly to Hanimadhoo from Male' International Airport, by domestic flight. If you are seeking islands in the north reachable by seaplane, there are many resorts in Noonu Atoll and Baa Atoll. Seaplane takes about an hour to Noonu Atoll from Male', and Baa Atoll it is approximately 45 minutes and varies from island to island.
Things To Do
If you are planning your first holiday you may be wondering about the things you can do. The main activities you can do include scuba diving, snorkeling (see best reefs for snorkeling), watersports, in-land sports, excursions. Scuba divers usually do diving everyday, relax and enjoy evenings in bars. The same pattern applies to snorkelers who spend hours and hours doing just that. Watersports people are often not that regular, guest who love watersports often try many other activities. Most common watersports includes banana riding, catamaran sailing, waterski, wake-boarding, windsurfing, paddling, jetski etc. There are some resorts that offer parasailing and kite surfing too. Excursions are the most interesting. They include sunset fishing, dolphin watching, snorkeling trips, island hopping, shopping trips, romantic escapes, sunset cruise etc.
Source: www.maldivesfinest.com